Weather Message is a full-featured weather alerting software package. Utilizing the Emergency Managers Weather Information Network (EMWIN), Weather Message provides the ability to view weather text and weather graphics on computers connected to a network with audible alerts for severe weather; provides a map for seeing a visual representation of weather alerts; can send abbreviated or full text weather messages to pagers, e-mail addresses, twitter, and fax machines; archives weather products locally or to a website; retrieves radar images; and has the ability to activate external devices, and much more.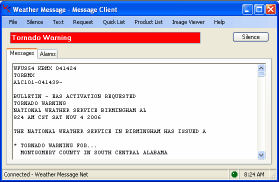 Weather Message can function on its own with either a GOES satellite feed(s) or Internet feed(s).
Weather Message is available in two different versions, Classic and Net. The Classic version of Weather Message operates on Windows 98, Me, NT, XP, 2000, and 2003. Weather Message Net operates on Windows XP, Vista, Windows 7.
Which version do I need? We suggest Weather Message Net for users that do not need support for older operating systems. Weather Message Net is actively being updated and enhanced with new features. Weather Message Classic will continue to be supported with maintenance releases.

How do I get the Free Trial Version?
Go to www.wxmesg.com and download the software and install it on your PC.
The software will allow you to use it for 30 days. After the evaluation period, the software will no longer function. To purchase the software, go to the Weather Message website!